"I took my first steps in the desert with the team Nour. I could not imagine finding much of interest in this immensity of sand."
Christine Vincent, Paris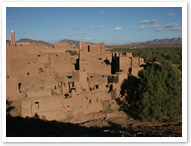 Our Riad in Morocco



MERZOUGA DUNES SOUTH MOROCCO




DAY 1 : MARRAKECH / OUARZAZATE / SKOURA / GORGES DADES.


Départ pour le grand sud à travers le Haut Atlas. Passage par le col du Tizi n'Tichka . Arrivée à Ouarzazate et tour panoramique de la ville puis continuation sur Kelaa des Mgouna, capitale des roses au Maroc. Découverte de la vallée des roses, par une piste qui suit les contreforts du massif du M'Goun (4068 m). A flanc de montagne et sur les parois abruptes des falaises, les Berbères, éleveurs de moutons et chèvres, ont creusés depuis des siècles, des abris pour leurs familles et leurs troupeaux. A Ait Youl, continuation par la route vers la riche vallée du Dadès aux terres ocre-rouge et aux majestueuses kasbahs.



JOUR 2 : GORGES DU DES / GORGES DU TODRA / ERFOUD / MERZOUGA.


Discovery of Todra Gorge, one of the most beautiful natural sites of Morocco with high cliffs over 300 m. Continuation to Merzouga via Rissani.
Stop in Rissani : village built near the ruins of Sijilamassa, the legendary capital of Tafilalet, cradle of the Alaouite dynasty. After a few kilometers of stony desert, through a succession of ksars, oases and palm groves appear before us and blond sand dunes of Erg Chebbi roses.
Arrival in Merzouga, arrival tea and good starting camel to an oasis in the heart of the dunes. Installing the camp erected at the foot of the dunes of Erg Chebbi. .



DAY 3 : Merzouga / ALNIF / TAZARINE / Nkob.


After attending the sunrise camel back to the hostel Tomboctou. Nkob departure via the village of Rissani, the capital of Tafilalet, is the birthplace of the current Alaouite dynasty, which in 1666 went Moulay Rachid to conquer Morocco and reverse Sâadiens. The city is home to speakers and palace ruins, such as Ksar Aber, high in the nineteenth century, when the rulers protected part of their treasure, guarded by hundreds of black soldiers, while there exiling members the royal family disgraced. Or Ksar Oulad Abdelhalim, built in the early century, and it remains very fine decorative elements. The Zawiya Moulay Ali Cherif, founder of the dynasty it is in perfect condition. But it is forbidden to non-Muslims, who can only take a look at the gardens and ceilings of the entrance. Arriving late in the day Nkob.


DAY 4 : Nkob / AGDZ / Ait Ben Haddou / MARRAKECH.


Departure to Marrakech via Tansikht which gives access to the Draa Valley. Continue along the course of the Wadi Draa Stop Agdz small town dominated by cliffs of Jbel Kissane and limit the foothills of the eastern Anti-Atlas. The pass at 1660m of altitude Tizin'Tiniffift before returning to Ouarzazate. Continuation to Marrakech and the pass of Tizi n Tichka (2260m) then descend via Taddert on the plain of Haouz Marrakech and its splendid capital.